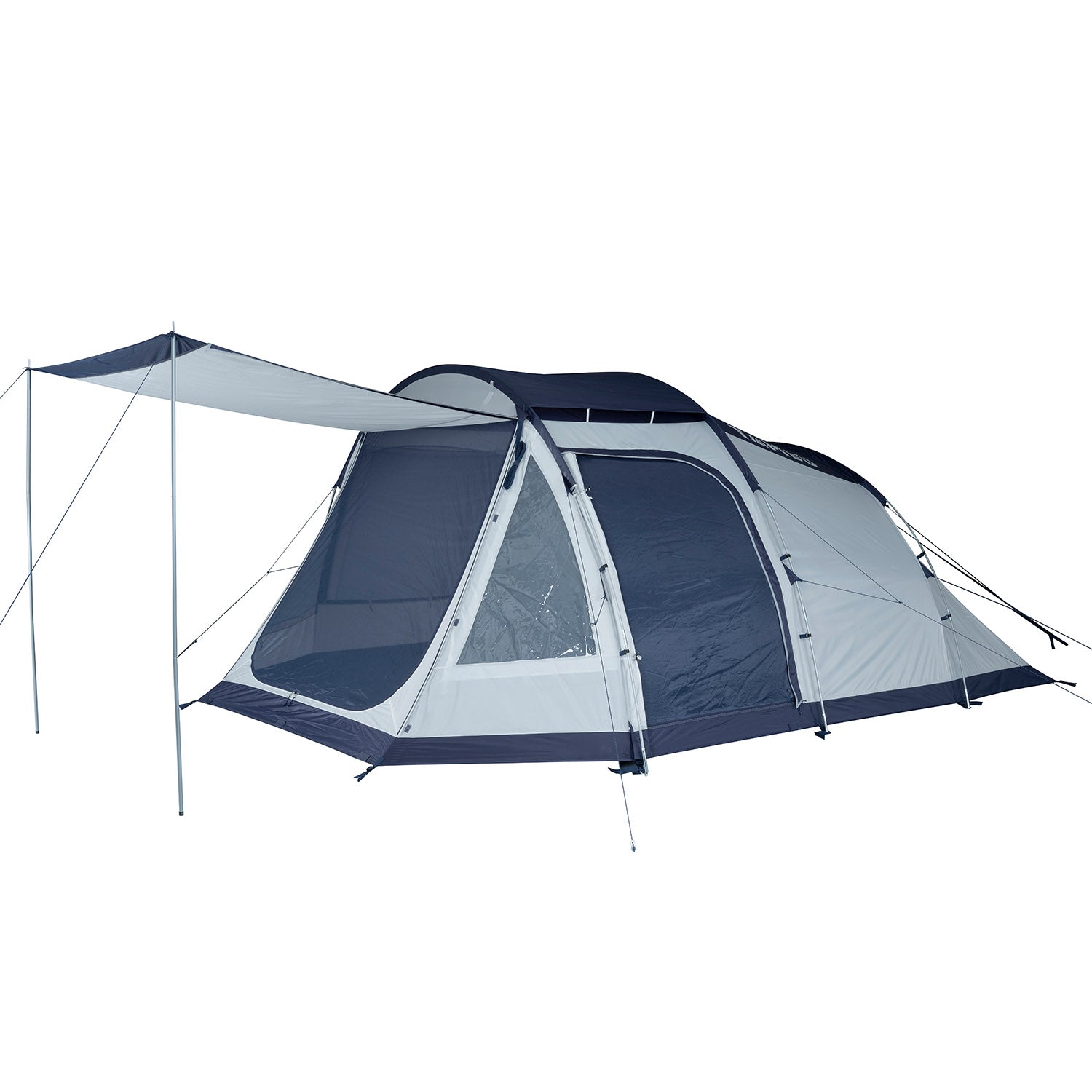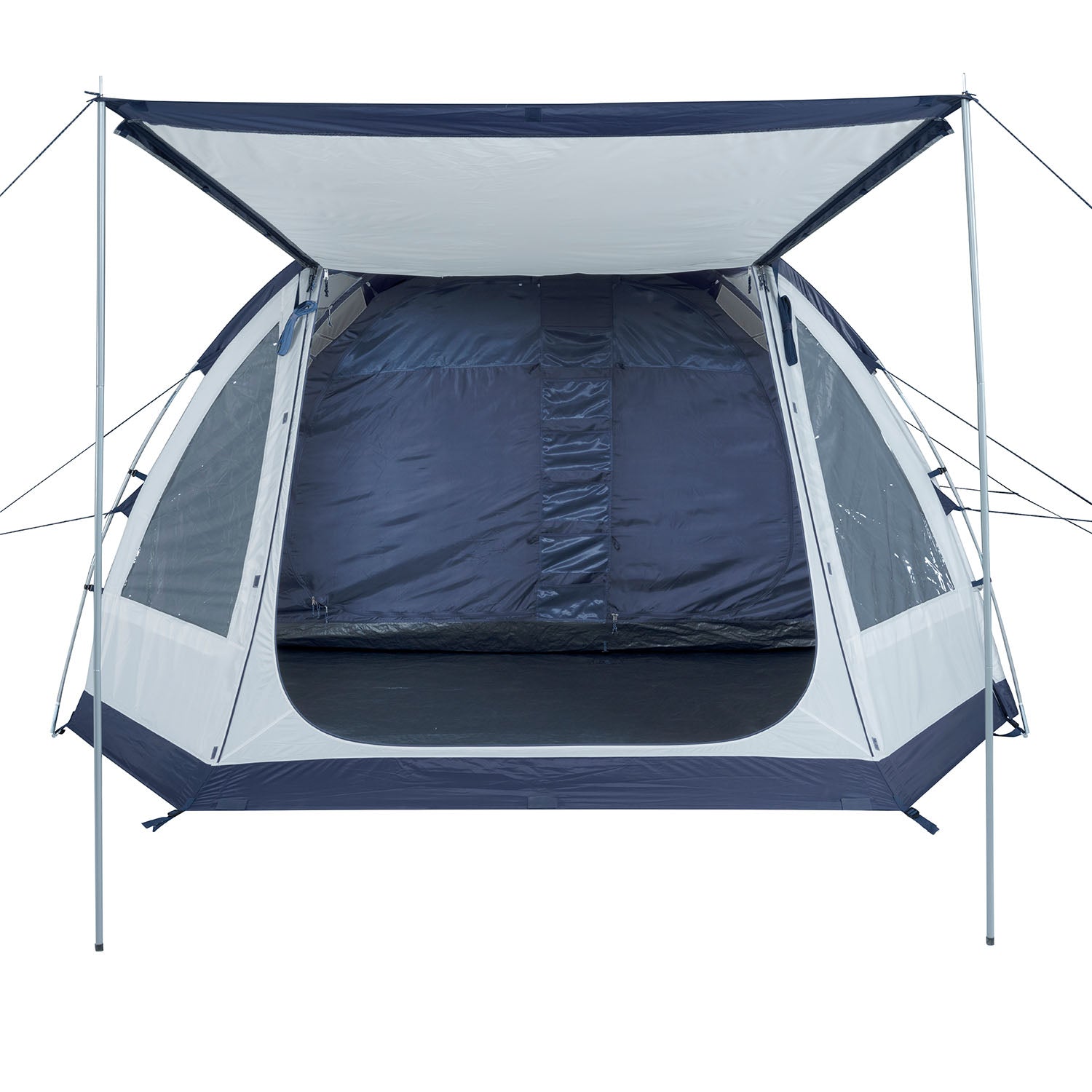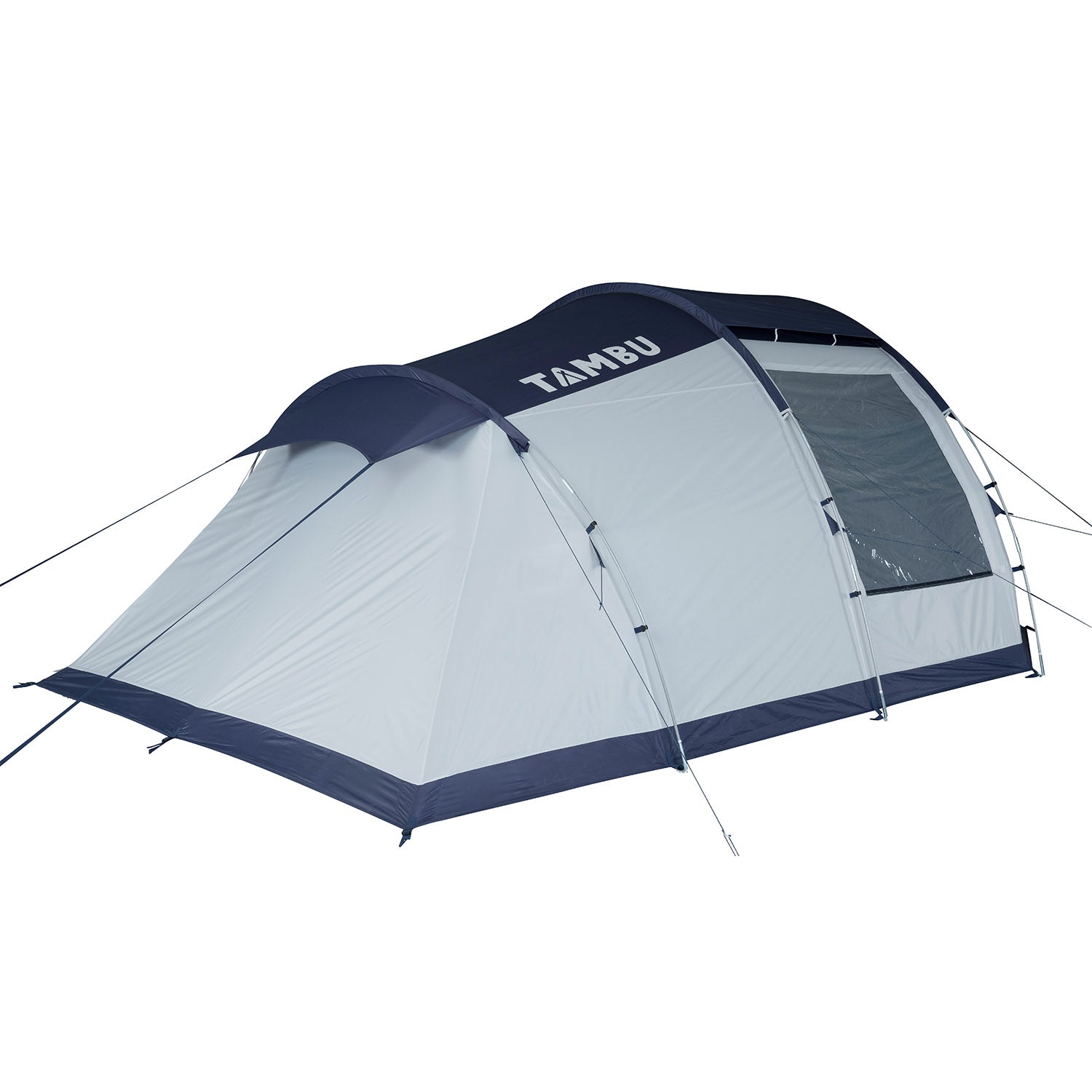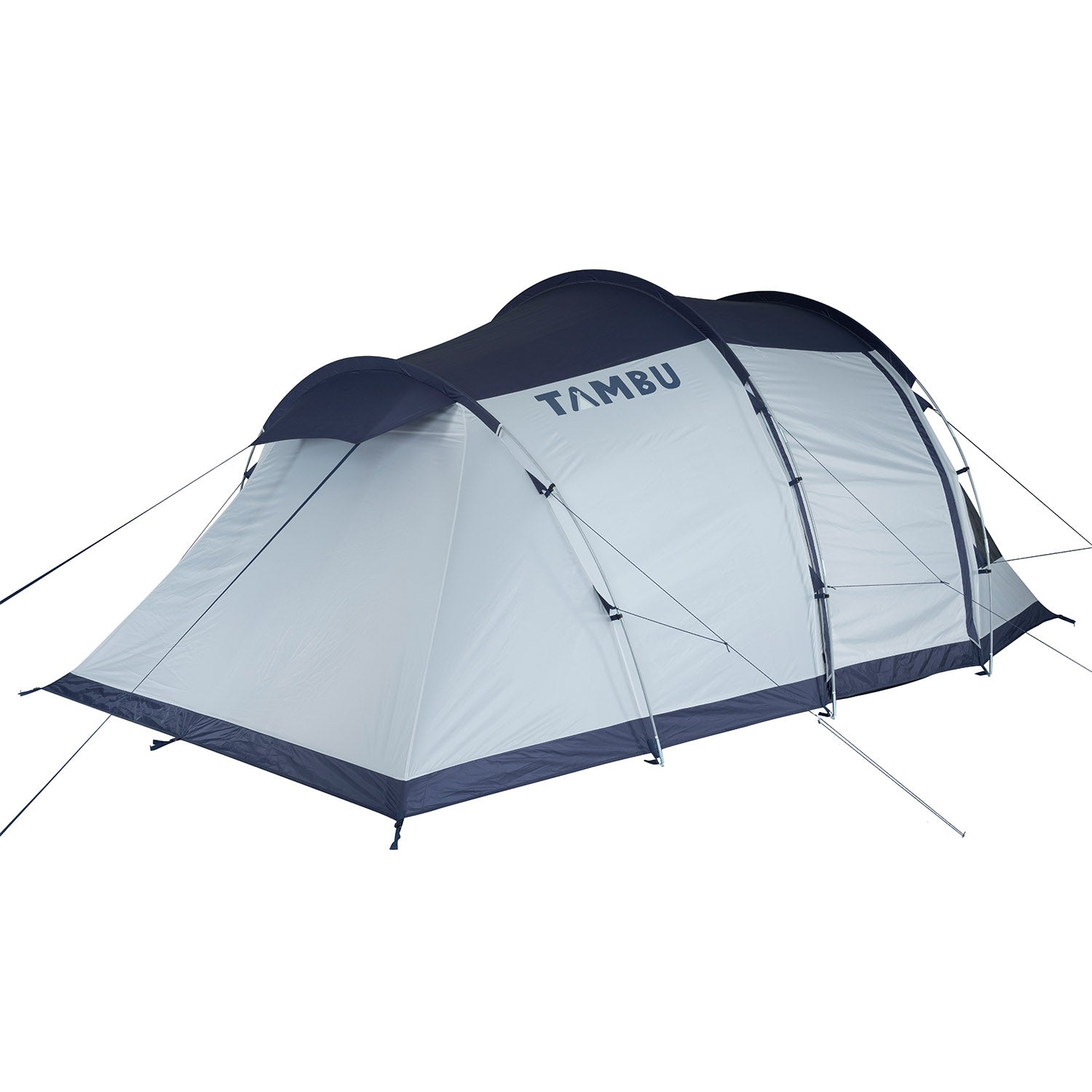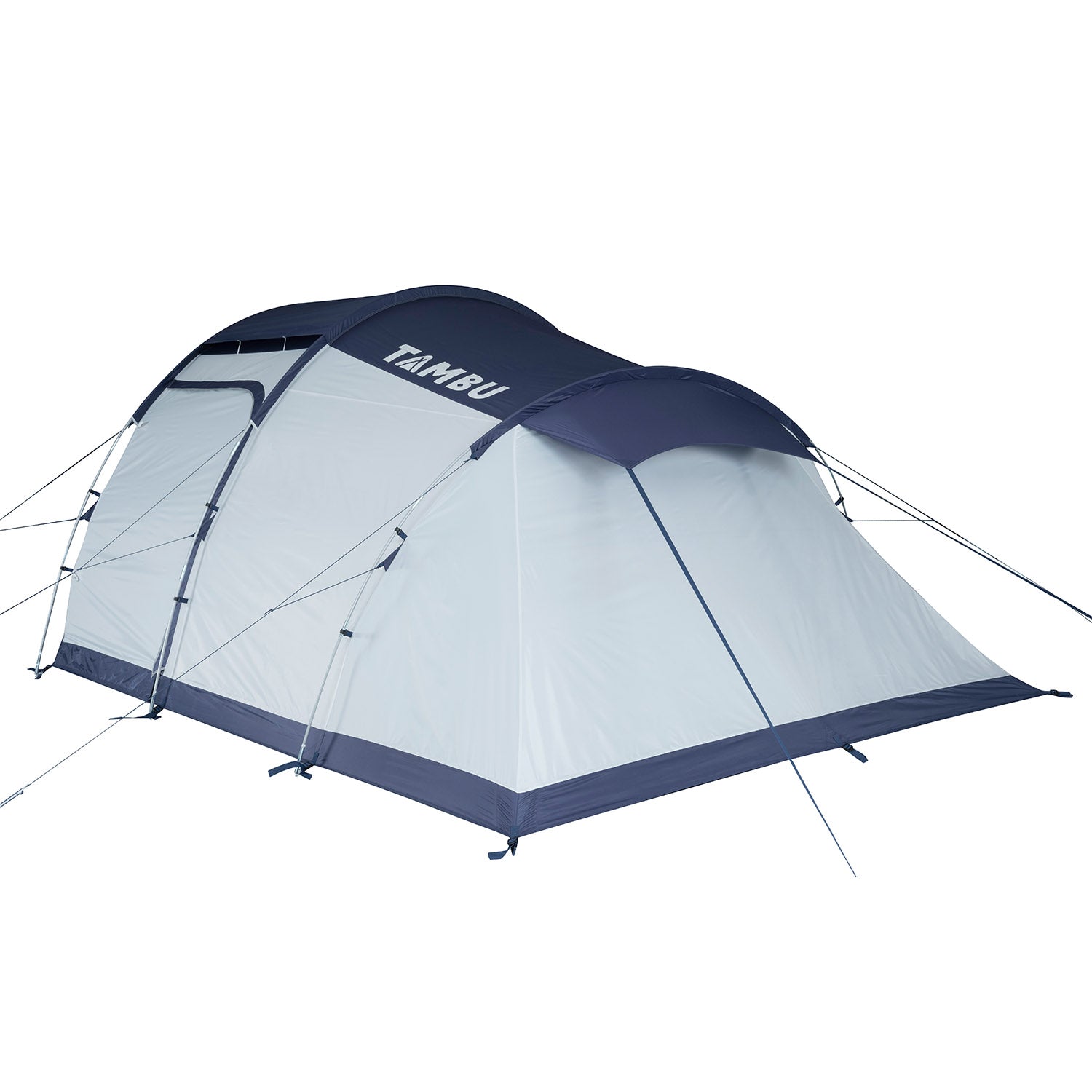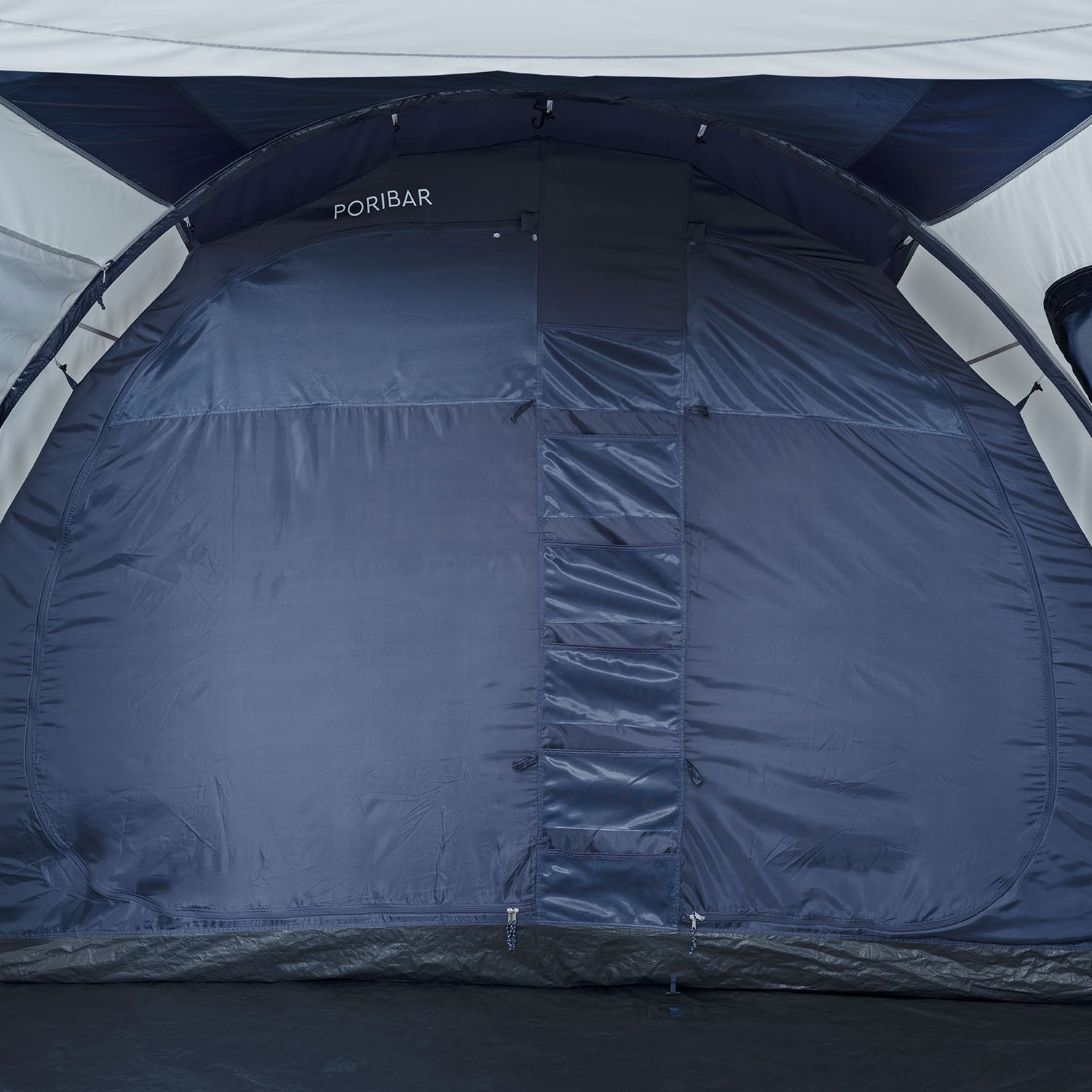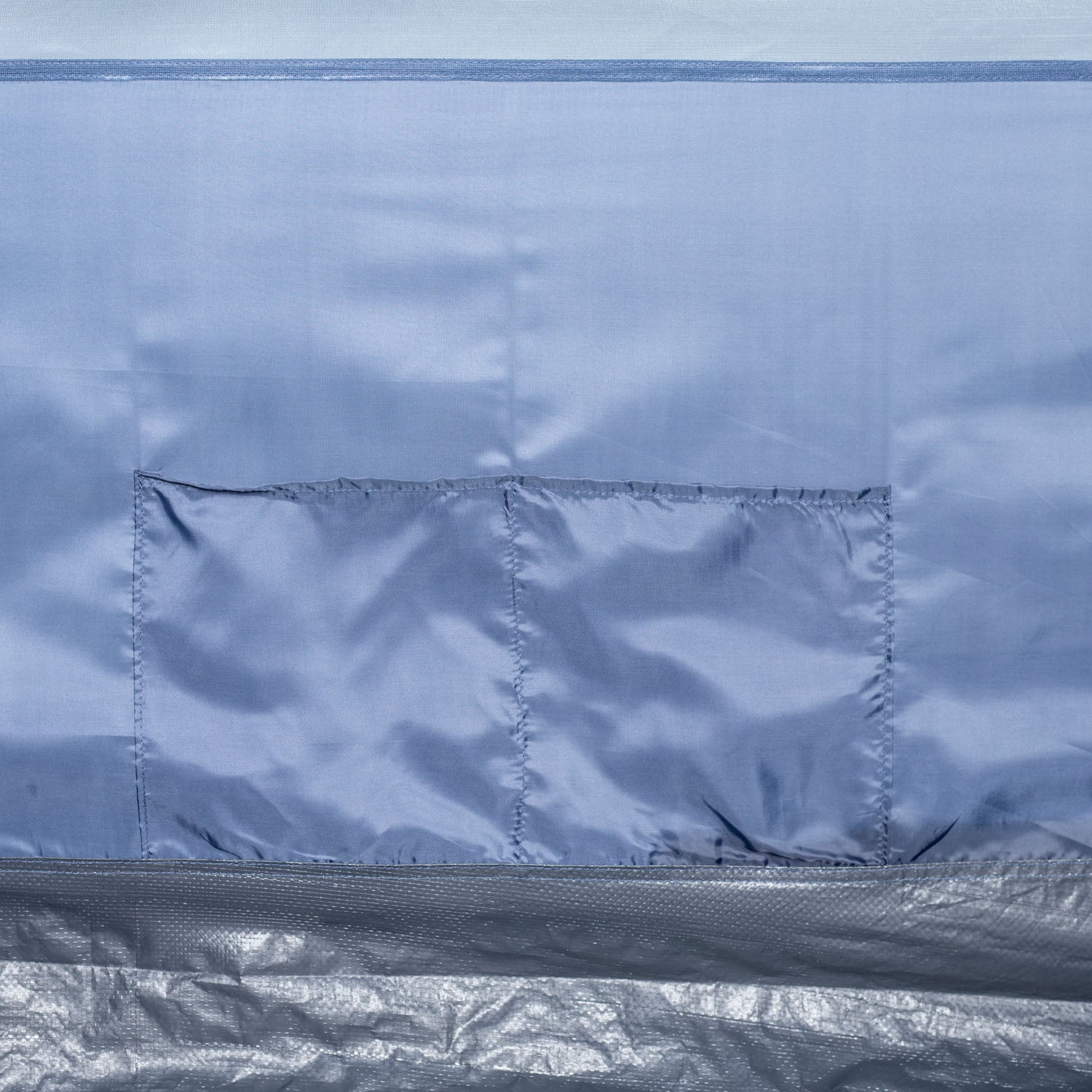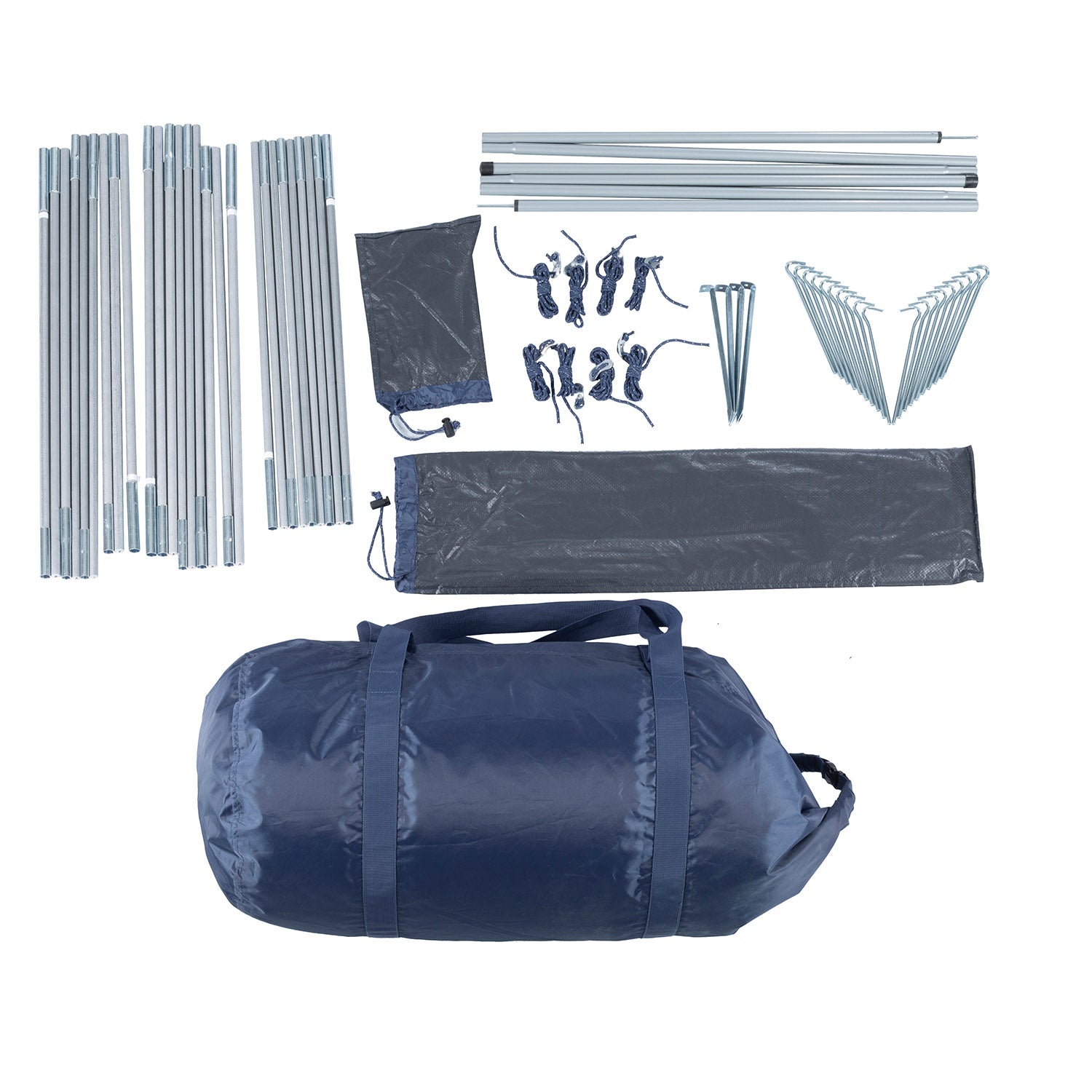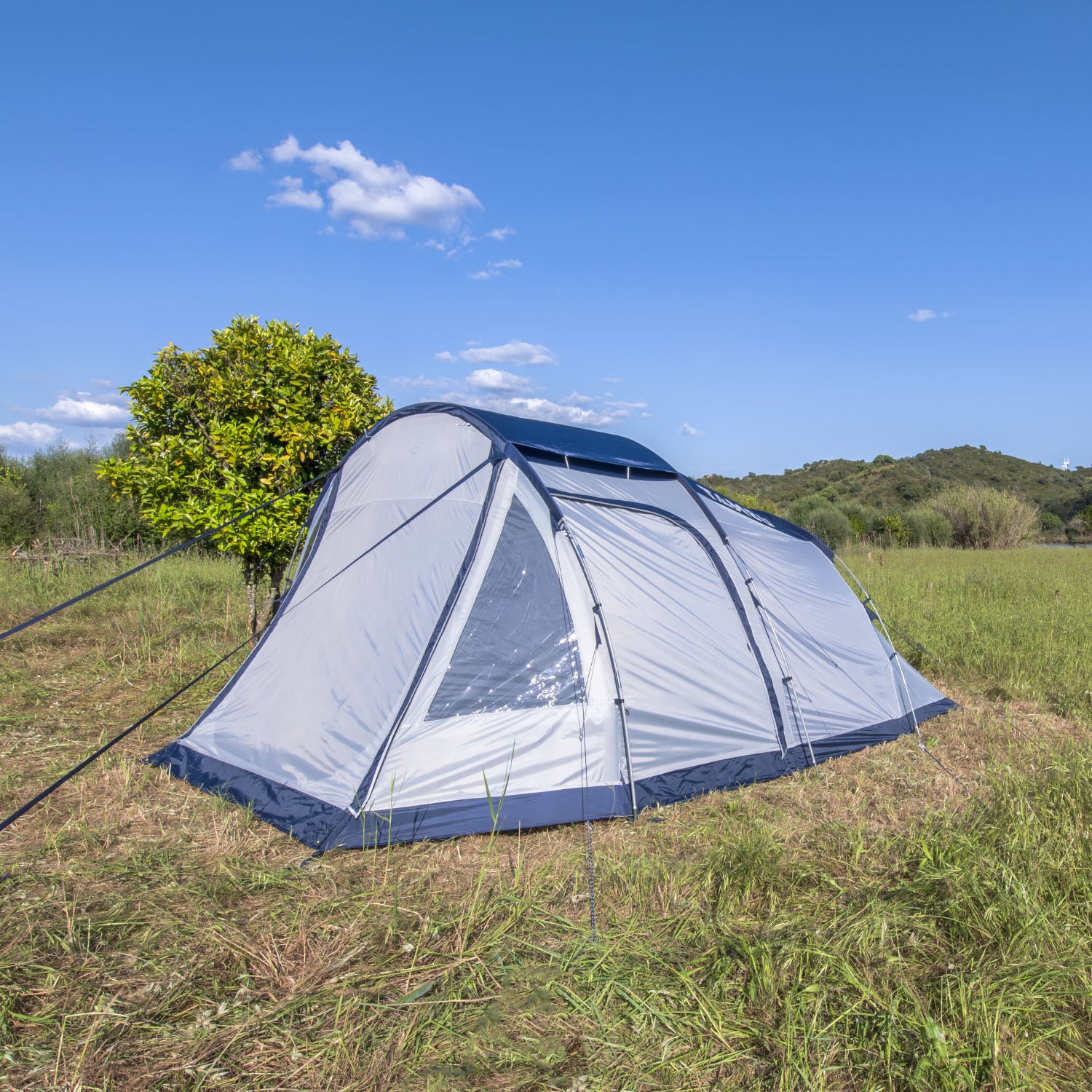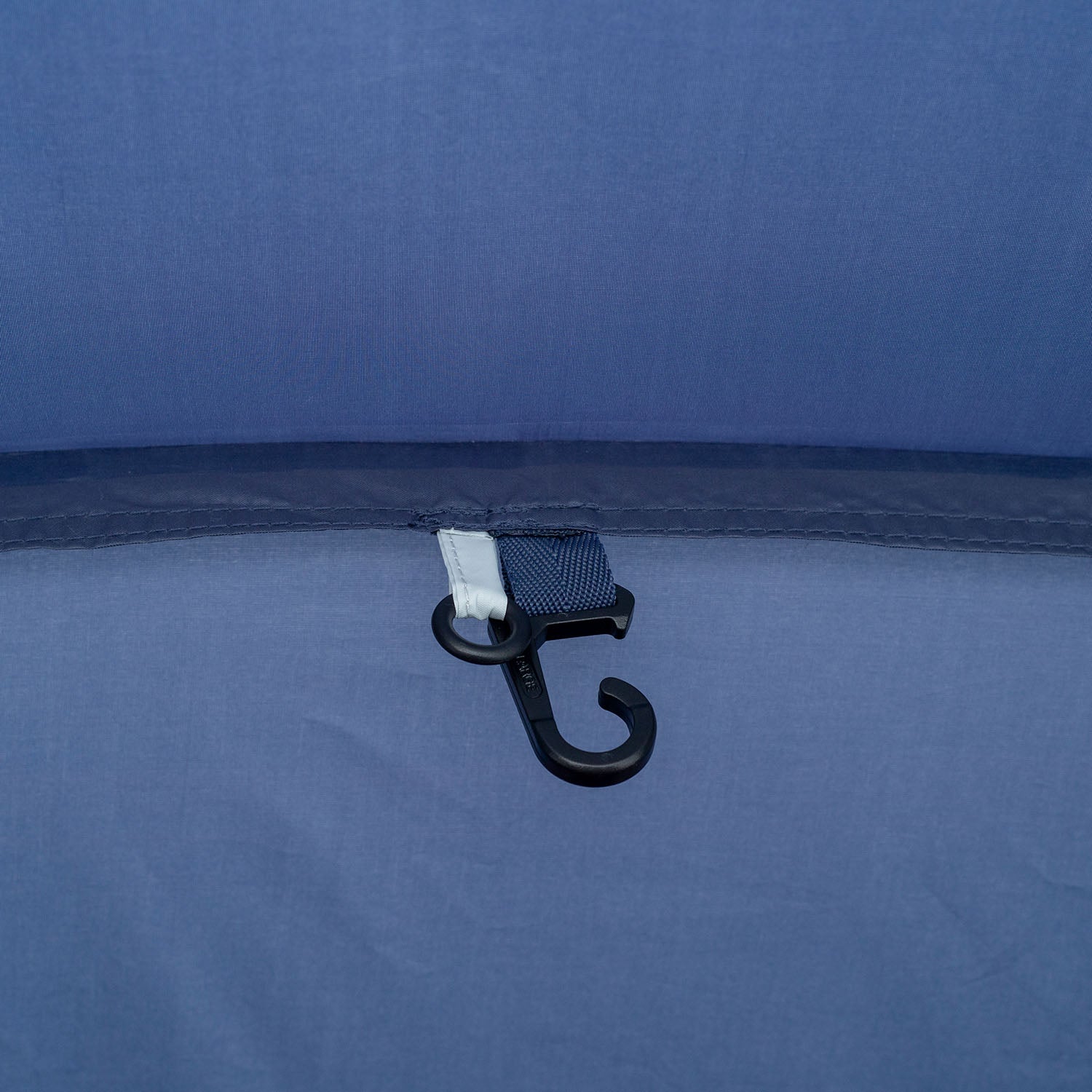 PORIBAR | 5 person family tunnel tent

📦 Free shipping & returns
⏎ 30 days return policy
✔ 3 years warranty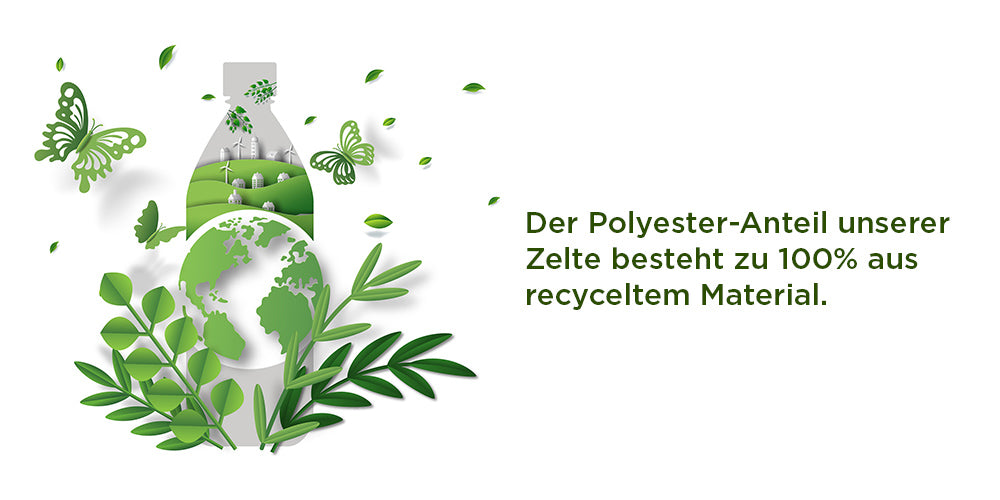 FEATURES & SPECIFICATIONS:
2 side permanent ventilations with spacers
1 rear permanent ventilation with stand-off function
double doors with full gauze entrance
Tinted TPU windows
Sewn-in groundsheet
Inner pockets
2 lamp holders
tent dimensions & weight:
TECHNICAL DETAILS:
Color:
Grey/Navy Blue
Outer tent material:
recycled polyester
Inner tent material:
breathable recycled polyester
Material tent floor:
PE
Coating:
PU
Seams:
Waterproof seam tape sealing
Poles:
Dura fiberglass 12.5 mm/11 mm
Pegs:
Aluminum
Guy straps:
Nylon, reflective
Zipper:
With reflective cover
Packing Bag:
Waterproof carry bag with seam tape sealing
Outer dimensions:
455 x 320 x 190 cm
Interior dimensions:
300 x 210 x 180 cm
Weight:
15 kg

Water column over tent:
SCOPE OF DELIVERY:
Tent, poles, guy ropes, carry bag, setup instructions. Pegs
UV STANDARD CERTIFICATION:
UV STANDARD 801 is one of the world's most rigorous testing and certification systems for shade textiles. The testing procedure determines the UPF (Ultraviolet Protection Factor), which is used to indicate the UV protection factor of textiles. Unlike other UV standards, which test textiles only when they are new and dry, UV STANDARD 801 also tests sun-shading textiles under realistic conditions of use.
PORIBAR is a tunnel tent for 5 people and comes with Dura-Poles fiberglass poles. This is much more resistant to breakage than conventional fiberglass and yet very flexible. Both the flysheet and the inner tent are made of 100% recycled polyester, which was made from PET bottles.
The tent has a 7sqm living area in the front, as well as a sleeping area for up to 5 people in the back, which is also separately separable into two chambers by a curtain. In addition to the front entrance with a practical pop-up roof, the living area also has a second entrance on the side. Both entrances are equipped with gauze double doors, so you are well protected from mosquitoes and other flying insects.
The sewn-in groundsheet also keeps crawling bugs out and your feet, as well as your gear, dry.
On the side of the tent is a large, coverable window, which provides optimal lighting conditions when staying inside. There are also two corner windows on the front of the tent that can be closed with a curtain from the inside if you want more privacy. All windows are made of TPU material and therefore free of PVC. This material is flexible, does not yellow and feels soft, although it does not contain plasticizers.
At the front of the sleeping cabin there are practical storage compartments where you can keep magazines, toothbrushes, sunglasses and cell phones, for example.
Along each of the two upper sides of the front roof is an elongated protected permanent vent with spacer function, so that the living area is always supplied with enough fresh air. The likewise protected permanent ventilation on the rear side of the tent also provides air circulation in the sleeping area.
The PORIBAR tunnel tent is ideal for longer camping vacations.